A kitchen renovation in a Rhode Island home is an excellent investment for every family! An updated kitchen can mean finally getting all the storage you need, where it's needed. Also, a full-scale renovation might include space for chef-inspired appliances, a roomy island, and more.
Above all, a kitchen renovation typically adds value to your home. In fact, most homeowners can expect to recoup at least 50% of their investment cost in increased value. You can then build equity faster or sell your property for more money if you decide to move! Check out 7 reasons why and how kitchen renovations typically add value to a home.
1. A Rhode Island kitchen renovation means increased storage
Remember that a home's value is based on what potential buyers might pay for that property. Increased storage often makes a home more valuable to buyers. In turn, increased storage in a kitchen can mean a higher property value!
Also, note that your kitchen renovation in Rhode Island can create storage that's not only roomier but also more accessible. For instance, a contractor might add cabinets around a refrigerator or add a dog feeding station near the back door.
2. Your kitchen renovation in RI might open up the space
Homebuyers rarely find cramped and crowded kitchens very appealing! In turn, you might ask your renovation contractor about opening up that space. He or she might remove or relocate a wall or appliances. Whatever the case, that added space can make the kitchen more usable and welcoming and your home more valuable.
3. Improve the kitchen's function with a renovation
While a kitchen should be welcoming and stylish, it also needs to be functional. A renovation can improve that function by making space for larger appliances or by adding new outlets. Also, enlarged countertops provide extra room for food prep and small appliances. These changes make a kitchen more functional which might then add value to your home.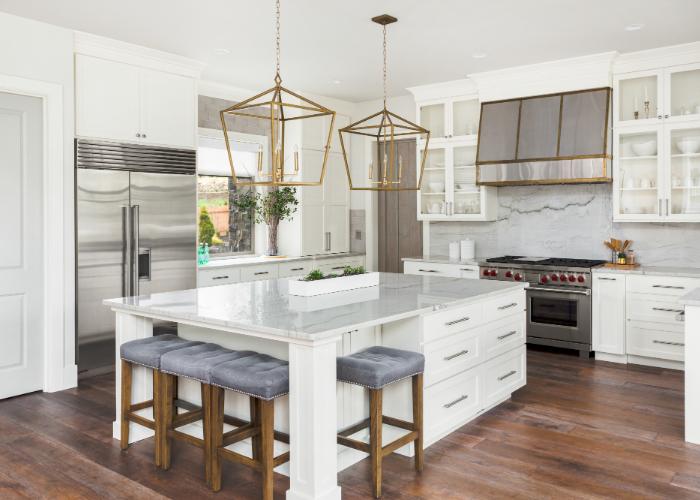 4. A brighter kitchen often means added home values!
Homeowners might not realize how much a kitchen's lighting affects its overall appearance. Not only do outdated fixtures make the space look drab, but they also don't provide adequate light. You might even notice how some spots in the kitchen always look dull even with all the lights on!
On the other hand, new light fixtures, under cabinet lighting, and other features create a brighter, welcoming space. Also, that added light means increased safety during food prep and cooking! You also might not struggle as much to read labels on packages when you upgrade your kitchen's lighting.
5. A renovation can remove unwanted features and space wasters
While many homeowners choose a renovation to bring in desired features, this project can also remove unwanted or wasteful details! For instance, you might not use a built-in writing desk or separate beverage cooler. Taking out these items makes room for added cupboards or other, more functional features.
Reworking the kitchen footprint can also mean making better use of the space without wasting a square inch. For instance, if your home has a dining area, you might not need an oversized breakfast nook in the kitchen. Reworking the kitchen layout can leave room for eating while making better use of otherwise wasted space.
6. Improve energy efficiency with a renovation!
Your RI kitchen renovation can make space for energy-efficient appliances and light fixtures. Also, improved ventilation can help remove unwanted heat from the space. During a renovation, a contractor might also add higher-quality insulation to the walls. These and other simple changes during a renovation can mean lower utility costs over time.
7. Add style with a Rhode Island kitchen renovation
Never underestimate the value of improved style for your home, including in the kitchen! Drab and especially downright ugly kitchens can deter potential homebuyers, which then lower your home's value. On the other hand, potential buyers often find stylish and attractive kitchens very appealing.
Consider if your home's kitchen needs a renovation just to improve its style. For instance, lots of dark, heavy wood tones can make the space seem somewhat cave-like. To the contrary, too much white and no color at all can create a sterile space! Even a small-scale remodel can then mean an updated style and increased property values.
Rhode Island Kitchen Remodeling is happy to provide this information about how kitchen renovations in Rhode Island increase property values. Hopefully, it's given you lots to think about when it comes to your remodeling needs! If you're ready for a change, call our Rhode Island kitchen renovation contractors. We'll schedule a no-cost consultation at your earliest convenience. For more information, call us today!