If you're planning a home renovation, you might note some kitchen design trends to avoid in 2022. One reason to check out these trends is that they might make your kitchen look outdated before long. Two, sometimes trends seem appealing at first glance but end up creating several issues down the road!
For many homeowners, a kitchen renovation might cost several thousand dollars. Consequently, you want to ensure you're happy with the end result for years to come. With that in mind, check out some kitchen renovation trends to avoid in your home!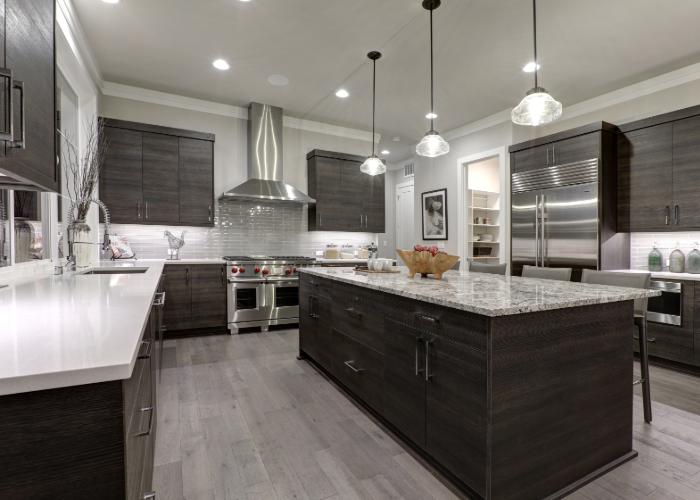 Kitchen Design Trends to Avoid in 2022
As you go through this list of kitchen design trends to avoid in 2022, remember that your home is your own! If you really love one of these trends, talk to your kitchen renovation contractor about working it into your plans. He or she might even offer some suggestions for ensuring you still love it in the coming years.
Avoid an all-white palette
White is a favorite color choice for kitchens as many people associate the color with cleanliness. Shades of white also brighten up a space, making even a small kitchen seem spacious. However, it can also get a bit boring!
To avoid a dull kitchen, opt for cool gray cabinets or at least dress up white cabinetry with oversized hardware. You can also add color with earth tone countertops and a bold backsplash.
Granite countertops are out!
Granite countertops were all the rage for many years, providing a stunning aesthetic loved by homeowners. Natural granite veining also ensured that no two kitchens looked alike. One the other hand, granite isn't very eco-friendly as harvesting it requires blasting and other harsh practices.
Quartz is a favorite countertop material for homeowners today. Not only is quartz durable, it's also very eco-friendly. Most manufacturers create quartz countertop materials with remnant materials, keeping them out of landfills. In addition to quartz, consider poured concrete and glass, both very eco-friendly options.
Open shelving is also out!
Open shelving was a hot trend for years, opening up a kitchen and allowing you to display your nicest dishes. At the same time, this also exposed those same dishes to airborne grease and dust! Also, open shelving can make a kitchen look cluttered somewhat easily. If you must have open shelves, keep them to a minimum in your kitchen.
Avoid anything ornate
While you don't necessarily want a boring kitchen, this is also not the space for ornate details. Most homeowners prefer kitchens that look welcoming but utilitarian and functional rather than fancy. Also, ornate details on cabinets and molding often hold airborne grease and other grime. To ensure a clean kitchen you love, keep it simple.
Avoid mismatched styles
Most homeowners today prefer open floorplans that allow the kitchen to flow easily into an adjoining dining or family room. In turn, you want to avoid mismatched styles in these spaces. In other words, a farm style kitchen might look odd next to a mid-century modern family room! Choose details for your kitchen that create a cohesive appearance between it and any adjoining space.
Opt for a full backsplash
Four-inch backsplashes are affordable but not very functional! Today's kitchen renovations typically include a full backsplash, extending from the countertop to the bottom of the cabinets. Not only does a full backsplash protect walls from grease but they're also more visually stunning. Metal materials offer a great contrast against wood cabinets while glass can reflect light, opening up the kitchen.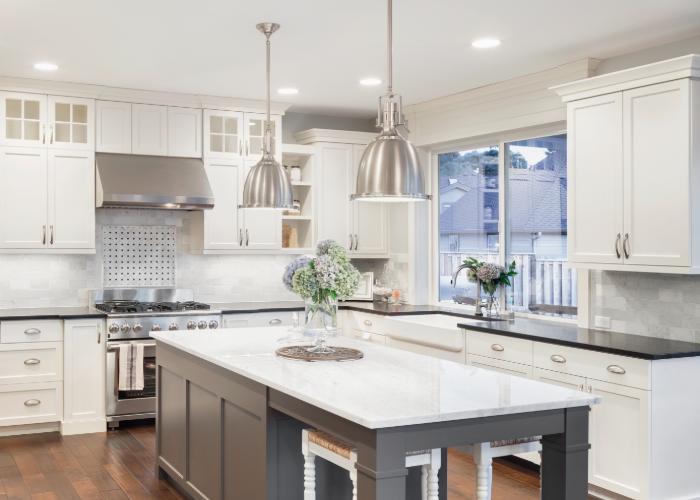 What Is the Kitchen Trend for 2022?
While outdated trends can make a kitchen unattractive and unwelcoming, some trends enhance its style and function! Check out some kitchen trends for 2022 you might consider for your upcoming remodel:
Sustainability and eco-friendly choices are a hot trend that's here to stay! Along with quartz countertops mentioned above, look for glass, reclaimed wood, and recycled tile for kitchen surfaces.
With more homeowners working from home, consider some separation between kitchens and other areas. For example, many renovation contractors are creating half walls that offer some privacy without closing off the kitchen entirely.
Modern country is one of the hottest design trends for kitchens in 2022. This trend combines rustic elements such as an apron sink with updated stone countertops or Shaker style cabinetry.
Patterned floor tiles are also a great choice for 2022 and beyond. These provide a pop of color and eye-catching detail that keep a kitchen from looking dull and drab.
Is Farmhouse Style Out for 2022?
Farmhouse style kitchens are not likely to go out of style anytime soon. One reason for this is that homeowners often associate a farmhouse with cooking meals from scratch! Two, farmhouses also offer a welcoming, comfortable atmosphere homeowners appreciate in the kitchen.
However, today's homeowners often want to avoid an overly rustic style for their kitchen. To do this, consider adding some modern touches to your farmhouse kitchen, as said. For example, avoid wood countertops in favor of solid stone or quartz. You might also opt for modern cabinetry design and colors and then add a rustic island to the kitchen.
What Is a Timeless Kitchen Design?
If you're concerned about creating a timeless kitchen design, start with neutral colors. This includes white, tan, brown, and gray. Also, opt for simple cabinet styles without much detail. Classic solid stone countertops and subway tile for a backsplash also keep a kitchen classic and stylish.
Additionally, you might avoid appliances that don't add much function to the space and which you might not need long-term. For instance, many families don't need a separate beverage refrigerator in the kitchen. In turn, it might be better to use that space for cabinetry or other storage options.
Rhode Island Kitchen Remodeling is happy to offer this information about kitchen design trends to avoid in 2022. Hopefully it's given you a lot to consider for your renovation plans! If you're ready for an updated space, call our Rhode Island kitchen renovation contractors. We offer FREE consultations and customized design plans for every customer. For more information, feel free to contact us today.